Euglena(Japanese name: Midorimushi) is a kind of tiny algae only visible with microscope. It's said that Euglena has existed on the Earth for more than 500 million years.
It contains both plant and animal nutrients in high density.
It also has the distinctive substance called Paramylon. Paramylon is a natural substance which not only makes an human body exhaust unnecessary substances such as fat but also enhance immune function.
Euglena is the only creature having paramylon, so it's expected to make good use of Euglena in pharmaceutical products.
"Euglena Kanpans(hardtacks)"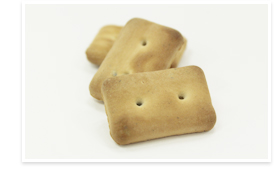 Reference euglena-farm.jp
500mg (roughly the same amount as a daily recommended intake) of (Ishigaki made) Euglena is dispensed within one can of the hardtacks.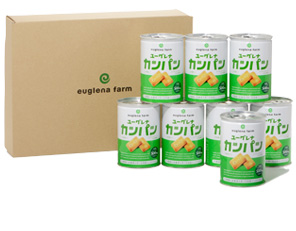 Reference euglena-farm.jp
Thus, it is good nutrition support at the times of disasters.
After the Great East Japan Earthquake, the demand for food storage such as canned biscuits and cookies(for home use) is increasing in order for the Japanese to prepare for natural disaster outbreak.
Notes.
Here is the Paramylon. He is a hero of the nourishment.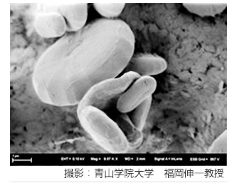 Reference euglena-farm.jp
Wrapped up by Yushi